The competency of baritones
Christopher Maltman in San Francisco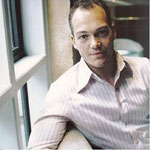 The most common creature populating our vocal recital stages is undoubtedly the baritone art song recitalist, and members of this common genus need to work particularly hard to assert any sort of individual identity or artistic imprint. British baritone Christopher Maltman's San Francisco recital debut at Herbst Theater last night provided a clear example of why competence alone won't suffice for entrants in this crowded field.
Maltman was the winner of the prestigious Cardiff Singer of the World competition in 1997 (the same contest which launched the careers of Dmitri Hvorostovsky and Bryn Terfel). His voice is focused, generally dark and dramatic, but carries a bright and overtone rich top. An ample volume comes easily to the singer, and I found myself thinking that perhaps he could be more judicious in his use of decibel power for interpretive impact. Otherwise, Maltman has beautiful clean diction, and is obviously thoughtful on matters of musical style.
Supported by the trusty pianist Roger Vignoles, Maltman opened a interesting but rather heavy handed set of Henry Purcell songs, including the last (and lesser known) of the composer's three versions of
If music be the food of love
. The English undercurrent ran strong, as the singer then offered a reading of Ralph Vaughan Williams
Songs of Travel
. Maltman showed a nice affinity for these, contrasting moments of ravishing eloquence against the hollow spirit of a vagabond's endless search.
Pianist Roger Vignoles offered particularly notable partnership in the set of Carl Loewe songs, producing bouncy, prancing rhythms against Maltman's broad paced declamations in
Herr Oluf
. The pair's delivery of
Edward
was given a sweeping epic feel, with the alliterative interjections rendered with full sonorous impact. They also performed Loewe's setting of Goethe's
Erlkoenig
, a masterfully crafted though more restrained and self-contained version than Schubert's.
It was in the in selections by Hugo Wolf where Maltman failed to establish a greater sense of artistic originality. The reading captured the flow and rug-pull psychology of Wolf's enigmatic narratives, but interpretively found Maltman relying too much on his facility in accessing volume as a means to generate easy excitement. Maltman's concluding pair of encores, an excellent reading of Benjamin Britten's folksong setting
Down by the Sally Gardens
, and Flanders and Swann's humorous
Have some Madeira, m'dear
, reminded once again of his spirit and affinity for the songs of British composers.
© 2005
C. Chang
Want to be notified of new Bay Buzz articles? Send an e-mail message with the subject "PLEASE NOTIFY ME" to this address. (Names and addresses kept strictly confidential.)